The Company's Business Operations
---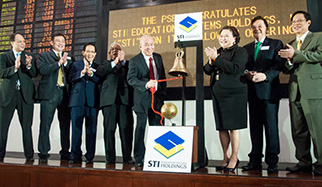 STI Holdings ("the Company") is the holding company within the Tanco Group that drives investment in its education business. It is a publicly-listed company in the Philippine Stock Exchange and its registered address and principal place of business is 7th Floor STI Holdings Center, 6764 Ayala Avenue, Makati City.
STI Holdings, being a holding company, derives its revenues from dividends declared by its subsidiaries and interest income on short-term placements.
STI Education Services Group, Inc. ("STI ESG"), a Subsidiary of STI Holdings, and its subsidiaries, as educational institutions, derive its revenues from tuition and other school fees from its owned schools and royalties and other fees for various educational services provided to franchised schools. STI ESG's network of schools includes 63 schools with 35 owned schools and 28 franchised schools comprising of 60 colleges and 3 education centers.
Apart from the STI branded campuses, iACADEMY has a campus in Makati City. iACADEMY is the premier school in the Group that offers cutting-edge and industry-focused programs for senior high school and college on computing, business, and design.
STI ESG's college campuses offer associate/baccalaureate degrees and technical/vocational programs in Information and Communications Technology ("ICT"), arts and sciences, business management, education, engineering, hospitality management, and tourism management. These programs are accredited by the Commission on Higher Education ("CHED") and/or the Technical Education and Skills Development Authority ("TESDA"), as may be applicable. The education centers of STI ESG offer technical-vocational courses for information technology, multimedia arts, hospitality and restaurant services, culinary, and tourism and events management, among otthers. The programs in the education centers are accredited by TESDA. The STI ESG networks has also been granted DepEd permit to offer Senior High School ("SHS").
On October 1, 2013, STI Holdings acquired a controlling stake in West Negros University Corp. (WNU) through the purchase of 99.45% of its issued and outstanding common stock and 99.93% of the issued and outstanding preferred stock.
The acquisition is part of the planned expansion of the Company. It also widened its course offerings at the tertiary level. It provided STI Holdings another entry into basic education which is the focus of the government's K to 12 program, and into the graduate school level which is vital in updating the development of human capital in the country.
At the time of acquisition, WNU had 5,075 students in all three levels, that is, basic education, tertiary and graduate school. The University's 3.1 hectare campus is situated in the center of Bacolod City in Negros Occidental.